We want to know the method of the mulberry crop cultivation,and stages of micronutrients and fertilizer application
1 Answers
Hi, please check below information needed for mulberry cultivation, Soil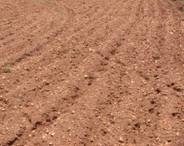 Slightly acidic soils (6.2 to 6.8 pH) free from injurious salts are ideal for good growth of mulberry plant.  Saline and alkaline soils are not preferred.
Mulberry varieties 
Irrigated                      :           Kanva 2, MR 2, S 30, S 36, S 54, DD (Viswa), V1
Semi irrigated           :           Kanva 2, MR 2
Rainfed                      :           S 13, S 34, RFS 135, RFS 175, S 1635
Propagation of mulberry
Mulberry is mostly propagated through cuttings.
Cuttings may be planted straight away in the main field itself or nursery may be raised and the sprouted and rooted saplings may be planted in the main field.
The latter method is advisable because of its easy establishment in the main field.
Selection of planting material
Generally, the mulberry plants are raised from semi-hardwood cuttings. 
Cuttings are selected from well established garden of 8-12 months old. 
Only full grown thick main stems, free from insect and disease damages having a diameter of 10-12mm are chosen for preparation of cuttings.
The cuttings should be of 15-20 cm with 3-4 active buds and should have 45o slanting cut at the bottom end. 
Care should be taken to make a sharp clean cut at both the ends of cuttings without splitting the bark. 
Manually/power operated mulberry cutter (stem cutting machine) is available for quick cutting of propagation material.
Nutrient management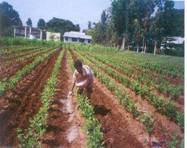 a)
Irrigated / semi irrigated (kg/ha)     
For V1, fertilizer schedule is 375 : 140 : 140 kg NPK/ha.
Apply fertilizers as per soil recommendation wherever possible
Apply the first dose of fertilizers three months after planting
Follow subsequent fertilizer application after each leaf harvest and pruning
Apply straight fertilizers to minimize the cost
b) Rainfed (Kg/ha)                  N P K Recommendation 100 50 50 First dose 50 50 50 Second dose 50 – –
Apply the first and second doses coinciding with South West and North East monsoons respectively.
 Bio-fertilizers
Apply Azospirillum @ 20 kg/ha in five split doses. Apply phosphobacterium  @ 10 kg/h in two equal splits.
Mix the bio-fertilizers with 50 kg of FYM for uniform distribution
Ensure irrigation after application
Do not mix bio-fertilizers with inorganic fertilizers
Growing and insitu incorporation of sunnhemp.
Micro nutrients
Apply recommended major/secondary nutrients based on the deficiency symptoms. 
For micro nutrients according to the deficiency symptom expressed, apply micronutrients as foliar spary @ Zinc sulphate 5 g, Ferrous sulphate 10 g, Borax 2.5 g, Copper sulphate 2.5 g, Manganese 2.5 g or Sodium molybdate 100 mg/lit of water using high volume sprayer (spray fluid 500 lit/ha). 
Add wetting agent, Teepol @ 0.5 ml/lit. for better adherence on the foliage.
For more information Please refer http://agritech.tnau.ac.in/ article. You can also check the related information from an article at Nabard website.  Mulberry cultivation & Silkworm rearing